We all want to be that person—you know the one—who makes pizza at home. With the right equipment, ingredients, and cooking methods (that you can modify to fit your oven), you'll be slinging pies like a pizzaiolo.
To learn the keys to homemade pizza directly from a Culinista chef, book a cooking class.
Equipment
This is not a "winging it" endeavor. You need the right equipment. Some of it is specifically for pizza; some things you probably already have at home. You can absolutely make your own dough, but there's no shame in using store-bought or pizzeria-bought dough.
For the Dough (optional)
Kitchen Scale
Measuring ingredients by weight, which is more accurate than measuring by volume, is essential when making dough from scratch. Precise measurements make for well hydrated, knead-able dough.
Stand Mixer
A stand mixer can make mixing and kneading the dough much easier, but it is not essential.
Cook Surface Options
Pizza Stone
A pizza stone is an ideal way to achieve that classically crisp crust on your pizza without a pizza oven. It helps to create a crispy crust by absorbing excess moisture from the dough as it cooks. Without a pizza stone, a baking sheet will do.
Baking Sheet
This method, while not as effective as a pizza stone, will still produce a decently crispy crust and evenly cooked toppings.
Suggested Tools
Pizza Peel
A pizza peel is used to move the pizza from the work surface to the hot cook surface (your stone or baking sheet) and vice versa. It's typically made of wood or metal and, while not essential, it is incredibly helpful; the long handle of a peel is a safer option for transferring (reducing the risk of burns) and the flat, wide surface makes it more secure than other kitchen tools.
Pizza Cutter
A pizza cutter's wheel-style blade is much more efficient than using a knife and won't tear the dough or toppings like a knife often does. Kitchen shears are fun and effective, too.
Must-have Ingredients:
Pizza Dough
Unless you are tackling pizza dough from scratch; this process can be time consuming and must be done precisely for good results! If that sounds overwhelming, head to your favorite pizza spot and ask to purchase dough. Most pizzerias will sell pre-risen, ready-to-use dough. Or, find high quality dough at the supermarket.
Sauce
Simple, high quality ingredients make for the perfect sauce, whether you're going with a marinara (Building a Foundation of olive oil and garlic before simmering San Marzano tomatoes and basil) or a sauce like pesto (using our Pesto Equation below).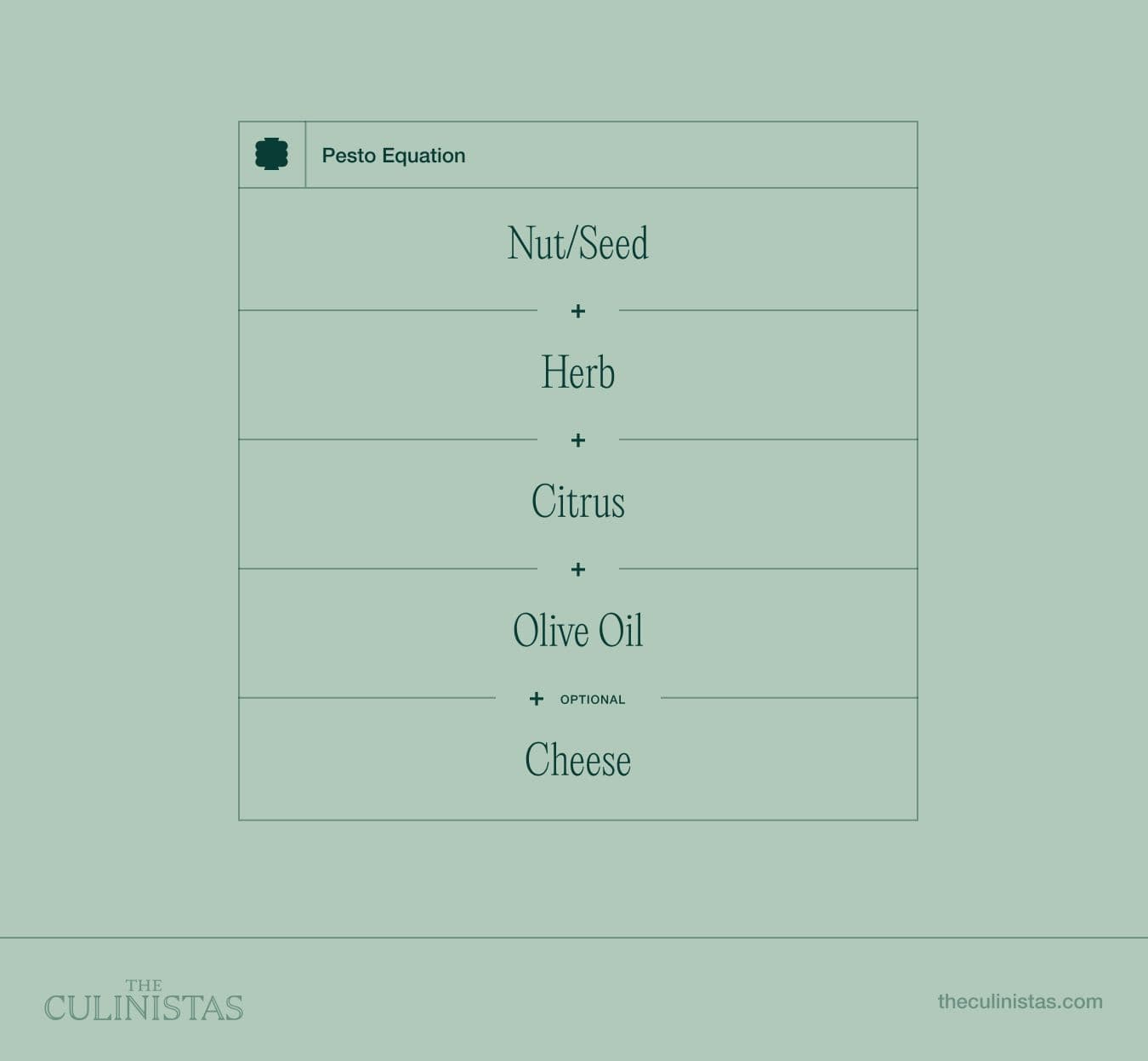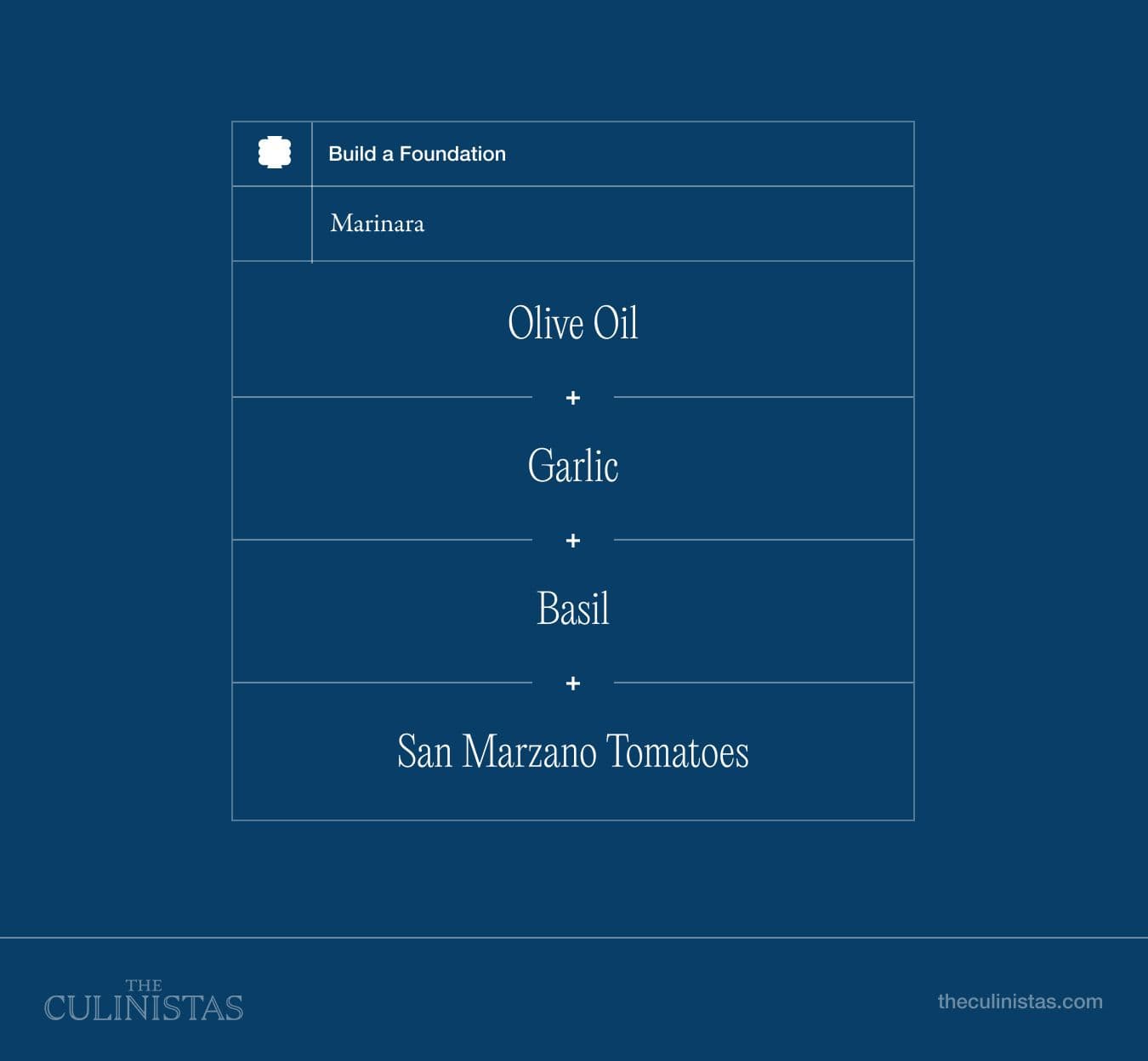 Cheese
Cheese is optional, but mozzarella is the classic choice because it has a mild flavor that doesn't overpower the other components. If using fresh mozzarella, try to slice it very thin as the cheese has a high moisture content and can result in a soggy pizza if cut too thick. We suggest trying ricotta for a creamier quality, provolone or gorgonzola for a funky-umami quality, and smoked mozzarella for a dryer quality of the same cheese with a smoky flavor.
Optional Ingredients:
Cornmeal
Cornmeal underneath the pizza dough helps for easier entry to and removal from the oven.
Toppings
Just about any vegetable can work on pizza. Slice woody, thick vegetables thin; pile delicate lettuces high. Cured meats will crisp up if added before cooking or will provide a soft, salty layer if added just before serving. Here are some of our favorite combinations:
Cook like a Culinista chef.
Sign up for our newsletter to get weekly recipes, cooking tips, and hosting inspiration.
Step by Step
1.

Preheat the oven

Preheat the oven to 425°F. If you are using a pizza stone and peel, the stone must be preheated in the oven to ensure it is hot before baking. If you are using a baking sheet and a pizza peel, you can do the same: preheat the sheet upside down in the oven. If you do not have a pizza peel, don't preheat your cooking surface, because it will be too difficult to slide the pizza on when it's hot. Your pizza won't cook as evenly, but safety first!

2.

Roll out the dough

Dust a clean surface with cornmeal (or flour) and roll out dough. Work with your fingertips, starting in the center, moving in a circular motion and spreading until the dough begins to form a circle. At this point, you can lift and pull the dough to achieve the desired shape.

3.

Add the sauce, cheese, and toppings

When it comes to pizza sauce, a little goes a long way. You can always add sauce, but you cannot take it away. Spread a translucent amount of sauce over the dough, leaving a bit of space around the periphery. Add cheese and toppings of your choice. Do not overload the pizza; this makes it harder to get the pizza onto the peel, and can result in a soggy pie.

4.

Cook the pizza

Carefully transfer your pizza to the preheated oven. If you're using a pizza stone, slide the pizza onto the stone using a pizza peel dusted with cornmeal. Bake until the crust is golden brown and the cheese is melted and bubbly. If the cheese is browning and overcooked before the crust is golden, try to form a thinner crust on the next round.

5.

Rest the pizza

After removing the pizza from the oven, it is crucial that the pizza sits for a few minutes before slicing. Waiting to slice allows for the cheese to slightly set and will help the toppings to stay in place.
The beauty of homemade pizza is you can make multiple small pies, learning as you go. It's also a wonderfully interactive experience: every guest can make a pie with their toppings of choice. And if you're craving a more in-depth lesson on how to make pizza at home, our Culinista chefs are at the ready.
Try your hand: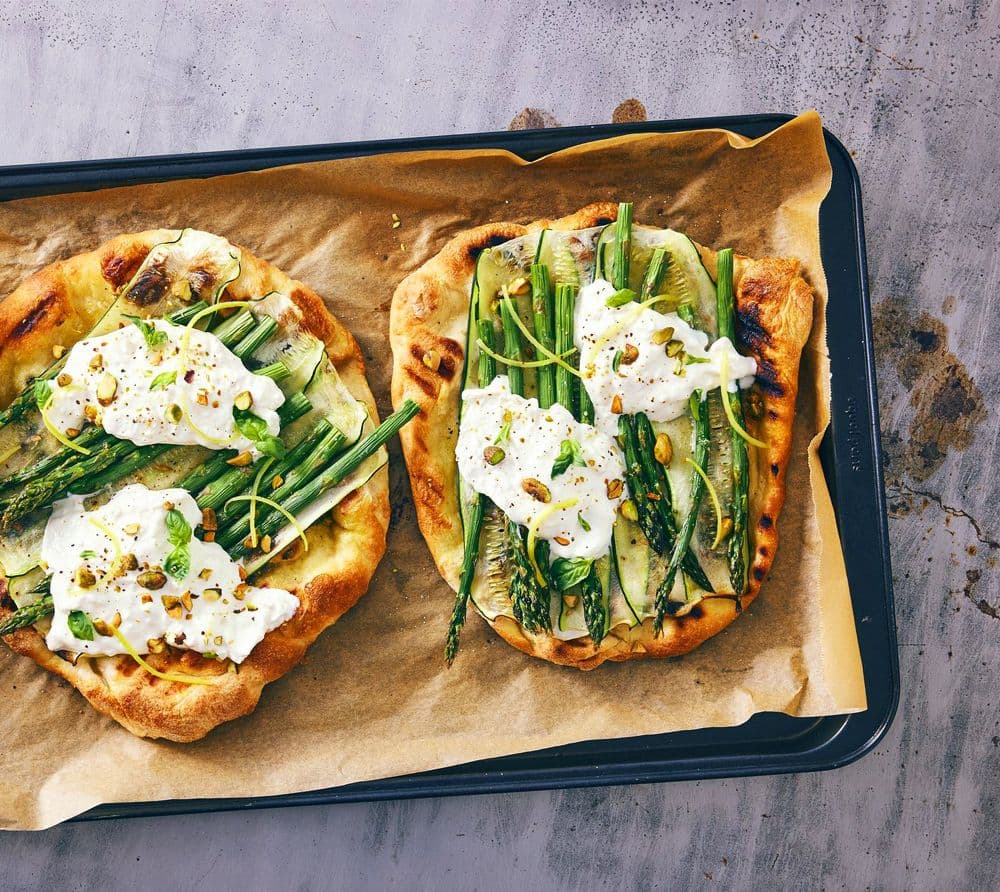 Cooking Class
Learn the keys to homemade pizza alongside a Culinista chef, and you'll be slinging pies like a pro in no time.