This Italian dinner party menu will conjure rolling hills lined with cypress trees, terracotta roofs parallel to cobblestone streets, overflowing carafes of table wine (but better, because it's from your reserve), pizza, pasta and more pasta. Bookable on our website, it's brimming with dishes found in local bars, traditional trattorias, and includes some Classics Redone because it's YOUR dinner after all.
Roman Pizzette
Meet pizzette, the fast-casual snack of Rome that is the ideal kickoff dish at your Italian dinner party because it is flavorful, three ingredients, easy to prep in advance, light enough not to ruin one's appetite for the meal, but will absorb a G&T. Our pizzettes are 2-3 bites each of tomato-sauced, marinated artichokes on a mini dough round. We use a Single Ingredient Multiple Ways by mixing the seasoned artichoke brine into tomato paste for a quick, perfectly seasoned sauce, and we use the tart hearts as a topping. With flaky dough, it is a Flavor Trifecta. We love sliced mozzarella bocconcini, anchovies, and cubed pancetta as extra toppers if you want to prepare a variety.
Arugula & Pickled Shallots
Our insalata mista is a billowing bowl of crisp greens adorned with jewel-toned shallots that, in between bites of hearty pasta and piccata, cleanses the palate by offering an acidic punch. The shallots are quick-pickled in red wine vinegar and sweetened with honey and the mista? Peppery arugula and sharp radicchio offset with sweetness. A meal like this needs a salad, so keep it simple with this one.

Veal Piccata
Often found on restaurant menus in Italy as Scaloppine di Vitello, Veal Piccata consists of thinly sliced, pounded, and lightly breaded pieces of veal. These cutlets get gently sautéed in olive oil, rendering a golden-brown finished product with locked-in juices—an unbeatable combination that guarantees a tender cutlet every time. White wine, lemon juice, and capers get added post-sauté, then reduced until thickened and spooned on top of the veal.
Get menus right to your inbox.
Sign up for our newsletter to find out about new menu drops, plus hosting tips & tricks.
Bucatini all'Amatriciana
Bucatini all'Amatriciana is a full-of-flavor Italian classic, both simple and fun to eat. The sauce is tomato-based and made with guanciale, a cured pork cheek, that adds a smoky flavor. Just like the base of many prized Italian dishes, onion and roasted garlic start the dish with an Aromatic Foundation. And while Bucatini all'Amatriciana is finished with freshly grated parmesan, the rind of the cheese is first cut away and simmered in the sauce to impart its super savory flavor profile throughout. No rules on how much cheese to add on top; the limit does not exist!
Cacio e Pepe Broccolini
Cacio e Pepe is a classic dish from the Lazio region of Italy (the same as Bucatini all'Amatriciana); this preparation riffs on the classic. We roast crowns of broccolini until tender and slightly crisped, then toss them with citrus, pecorino, toasted pine nuts, cracked pink peppercorns, and freshly ground black pepper. We make our cacio e pepe sauce green by using broc stems puréed with lemon juice, olive oil, and pecorino.
Coffee Hazelnut Trifle
The finale dish for this ultimate Italian dinner party is a combination of two beloved Italian sweets: Tiramisu and Maritozzi. For this Classics Redone, thick slices of brioche are toasted until golden then combined with an espresso syrup made from sugar, cocoa powder, and espresso. The espresso-soaked brioche is then layered with mocha mascarpone (a combination of mascarpone cheese, sugar, cocoa powder, and more espresso) and a simple whipped cream. The three components are layered in a trifle dish, dusted with cocoa powder, and garnished with deeply toasted hazelnuts.
Ready to throw a dreamy Italian dinner party? Read our Ultimate Guide to Hosting for all the tips, tricks, and strategies you'll need.

Book the menu: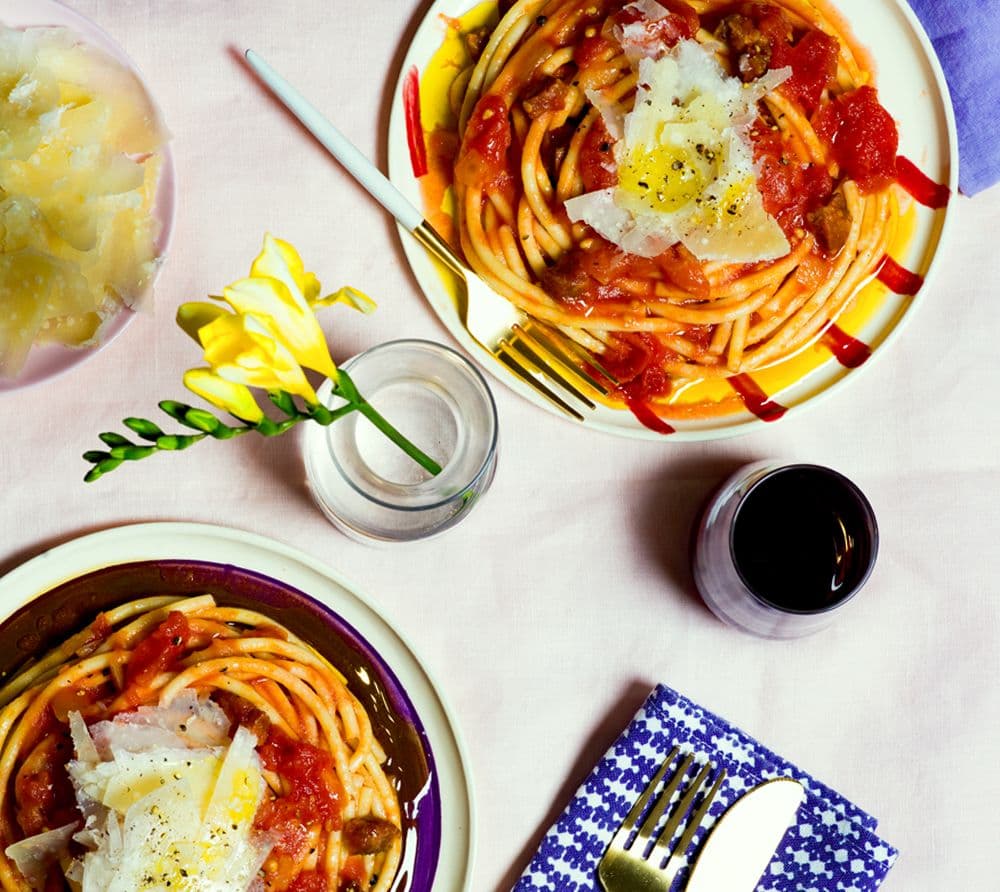 A menu with Roman classics and Tuscan favorites that will have you dining like a local; no plane ticket necessary. Buon appetito!