Dark wood, cushy chairs, and the sound of sizzling steaks arriving tableside. Dim the lights and turn up the jazz—we'll handle the rest. This steakhouse classics menu, bookable for clients of The Culinistas, boasts a delectable array of dishes for this extraordinary feast. And should you wish, our optional drinks service stands ready to craft the perfect martini as well.
Shrimp Cocktail
Shrimp Cocktail, which puts the "surf" in "Surf & Turf," takes pride as the optimal steakhouse menu starter. The key to flawlessly poached shrimp? A Sustainable Simmer, or poaching in a flavorful broth, rendering them plump, pink, and brimming with flavor. And while cocktail sauce is a must, we indulge in a duel of dips by adding a punchy aioli, too.
Buttermilk Romaine Salad
The secret to dressing perfection rests not in a hidden valley but in a humble buttermilk base. Our Buttermilk Romaine Salad enrobes crisp romaine hearts, delicately shaved fennel, and vibrant chives in a dressing of buttermilk, grated parmesan, olive oil and a generous shower of pepper. This harmonious blend of savory and acidic elements adheres to our Salad Equation, a simple formula of Greens + Vegetable + Herb + Acid making salad greens pop and priming palates for the feast to follow.
Sirloin with Roasted Garlic Sauce
This steakhouse luminary shines in its simplicity and resplendent flavor. It features just five ingredients to spotlight a perfectly seasoned and crusted steak as much as its Roasted Garlic Sauce, a triumph of a Flavor Trifecta. Slowly roasted garlic imparts sweetness, charred scallions provide umami, and a bright note comes from lime.
Creamed Kale
This is not an ordinary rendition of a steakhouse creamed green; it's a masterpiece. This Classics Redone uses robust Tuscan kale, also known as dinosaur kale, to level up conventional spinach. It is a Single Ingredient Multiple Ways: as the base of the dish wilted until tender and puréed into a luscious cheese sauce with lemon juice, mascarpone, and pecorino. Garnished with lemon zest and extra pecorino, this side is a harmonic culinary crescendo. If only the steakhouse could do it so well.
Want more menu inspiration? Join our newsletter.
Weekly recipes, hosting tips, and expert cooking advice right to your inbox.
Garlic Confit Red Potatoes
Few ingredients possess the transformative power that braised sweet garlic does when applied to potatoes. Our Garlic Confit Red Potatoes is a feat of tradition in a steak and potato partnership; marrying red potato creaminess with the richness of velvety garlic confit, crème fraîche, and chives. A final flourish of freshly cracked black pepper and a sprinkle of chives catapults these tots into divinity.
Chocolate Fudge Brownies
An extravagant meal with a lavish dessert is the beacon of an evening at the steakhouse. Our exceptionally fudgy and rich brownies are imbued with chocolate in myriad forms: dark chocolate melted into the base plus dark and semisweet chocolate chopped and interwoven before baking. We relish presenting these in a brownie sundae bar, with assorted toppings for guests to craft their own decadent denouement.
Try the menu: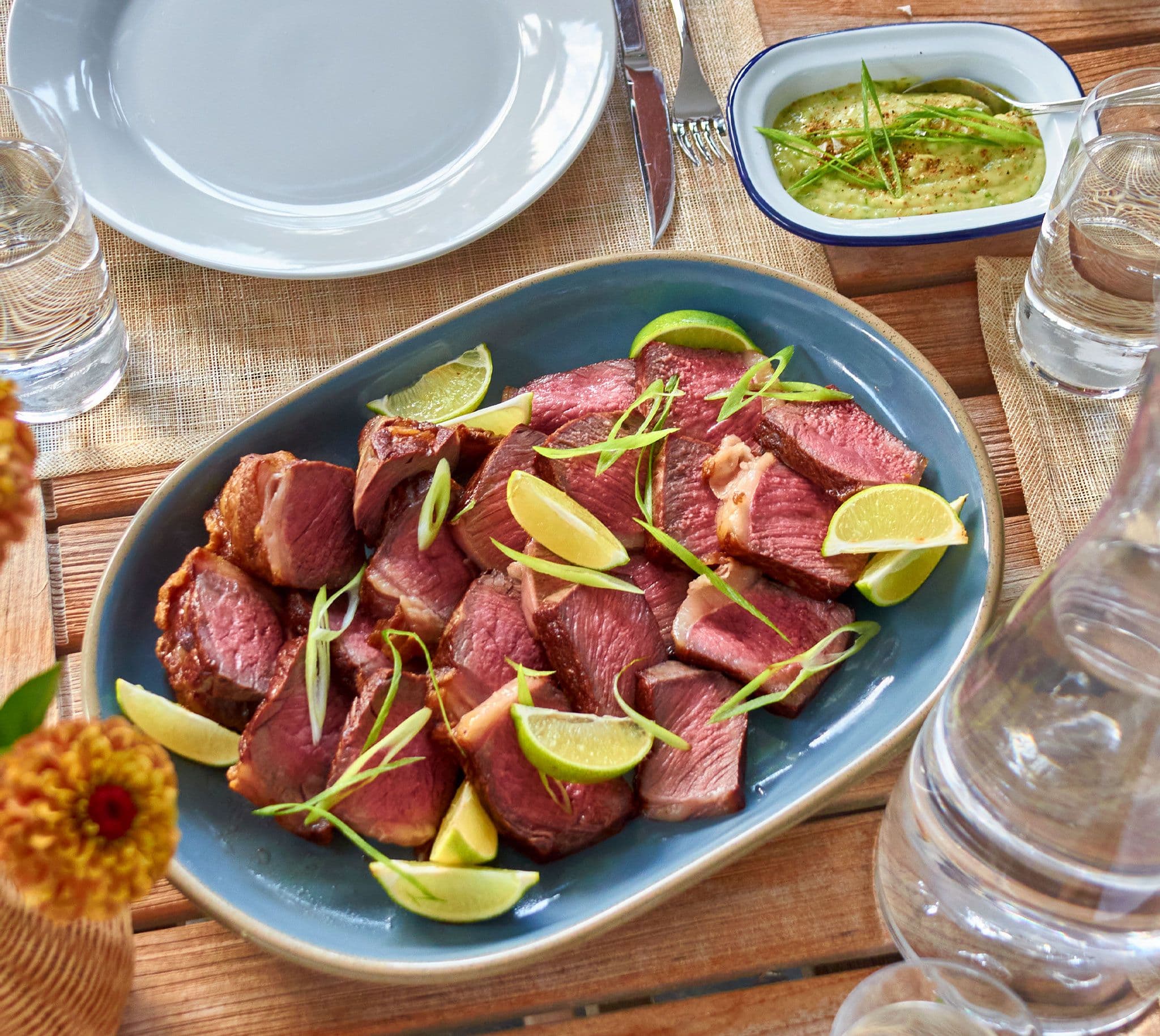 Cancel that reservation; the steak, and its beloved sides, are getting cooked up in-house.